Garage Door & Opener Repairs - Garage Door Repair Boston, MA -

617-987-9183
When you need repairs on your current garage door, call the experts at Garage Door & Opener Repairs. We can make adjustments, add accessories or an upgrade or perform routine maintenance so they last longer and operate smoothly.
If you have a problem, call us right away. Garage door problems don't go away. They get worse. Small issues can rapidly escalate, costing much more to fix than if the work was done right away. Quick action is the most effective way to handle repairs and maintenance.
Don't try to repair it yourself. In the long run, it will simply cost more to fix. It is so easy for the do-it-yourselfer to make an error when trying to do a simple repair. Then the fix needs a fix, which costs more money. If you aren't sure what you're doing, garage door repair can easily become dangerous. The doors are extremely heavy and the springs carry a great deal of tension. If you do something wrong, you can hurt yourself and damage the structure of your garage.
Call us first before you try to fit it yourself. At Garage Door & Opener Repairs, the trained crew knows how to get the job done right the first time. The work is thorough and the results are safe and long lasting. We have the skill and the trained personnel to get the job done quickly, before it gets worse.
If your door looks damaged or worn, call our technical team for an inspection. They can make the required repairs without delay. If you don't deal with the problem promptly, it will get worse, eventually causing your garage door to quit working altogether. The trained technicians at Garage Door & Opener Repairs have the experience and tools to fix your garage door, whether it is for a home or a business. We end up saving you time, money and worry. We want to help so give us a call. Whatever is the service needed and wherever you are placed at the Boston, MA zone, we are ready to serve you.
Garage Door Inspections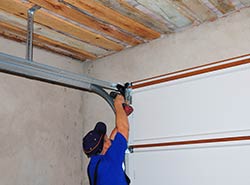 Garage doors have mechanisms that are complex and many moving parts that need to work in unison. They might look simple from the outside, but they are anything but. If one part of this mechanism is out of balance or doesn't work right, the entire door won't open and shut properly, if at all. That's why many home and business owners schedule regular garage door inspections. The pros at Garage Door & Opener Repairs can do a thorough check of all the working pieces of your garage door. They will make sure that every part is working the way it should and the mechanism is safe and secure.
When they conduct an inspection, the pros at Garage Door & Opener Repairs examine each part, looking for signs of wear and tear. They check hardware, tracks, cables, springs on both sides and the remote. If anything looks abnormal, makes strange sounds or has a break, they will make a note of it and bring it to your attention.
In order for your door to work, every piece needs to be synchronized with the rest. That's why it is essential that a trained professional inspect every part of the door mechanism. If they see that something isn't right, they will let you know, repair it or suggest a follow-up work. They perform routine maintenance like adding oil to reduce noise and friction, replace worn parts, tighten bolts that are loose, and adjust the tension on all of your springs. All of these fixes will make your door work better and last longer.
Damaged Doors
Accidents or normal wear and tear can cause your garage doors to quit functioning effectively. Parts break and the door can stop opening and closing, a major inconvenience for a home or business. It compromises the safety and security of your home or office, possessions and vehicles.
If you notice damage, call us at Garage Door & Opener Repairs right away. Our experts will get to your garage as quickly as possible, bringing all the tools and parts necessary to get the job done. The work will be done quickly, efficiently and without wasting your time. We handle emergency garage door calls on a 24-hour-a-day basis, 7 days a week. Call as soon as you start having problems. Because we arrive so quickly, you can still make your appointment or special event. We will get your garage door operating efficiently as soon as possible. We answer calls quickly, sending a trained team right away. Also, we charge a reasonable price structure in the Boston, MA.
The experts at Garage Door & Opener Repairs can fix just about every brand of garage door on the market because we have wide experience. We know how to deal with malfunctions, damage and repairs of all types. We can get your garage door back in good working order quickly.
Garage Doors That Won't Track
The track that your garage door runs on is what keeps it efficiently opening and closing. If it gets off the track, the door many not work properly, or at all.
It is surprisingly easy for a garage door to get off its track. Cables are a common culprit, due to an accident or general wear and tear. Cables get wet or are affected by the heat or cold. Tracks often break on just one side of the door. It usually occurs as you raise the door. Another cause of track problems is when an item blocks the door and it gets forced. At that point it can leave the track.
Never try to repair a track problem yourself. This work needs the right tools and experience. Otherwise the door might actually fall on you, causing serious injury. If the repair of the track isn't done properly, it can damage the entire mechanism, requiring that the entire door be replaced. A door off track is a danger to you, your family, your pets and your possessions.
The safest and least costly approach is to call the professionals at Garage Door & Opener Repairs. We will come out quickly and get it back onto its tracks. This will keep your garage door safe and secure and the cost is definitely less than replacing the entire mechanism.