Garage Door & Opener Repairs - Garage Door Installation Boston, MA -

617-987-9183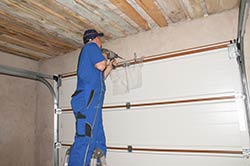 At Garage Door & Opener Repairs, we can install every type of garage door in the marketplace. We can also help you choose the best door for your needs and actually supply the door that we install. We do the job wherever you are located in Boston, MA and whenever you need the work done. We have the technical ability and experienced crews to do the work quickly and efficiently. It doesn't matter if the door is at your house or you need a new, secure commercial door for your automobile repair shop. We cater to the needs of residences and businesses, providing a full line of attractive, sturdy doors in a variety of price points.
Look through our extensive stock to find what you need quickly and easily. All of our doors are made with the highest grade materials, built to last for many years.
How Installation Works
We start all of our installation work with a meeting between our client and one of our trained technicians. There you discuss what you need and expect from the installation, its appearance, your budget and what features you like. We then inspect your home or business to figure out the right door size. We put together an estimate that is easy to understand and thorough. It is important to us that you know what is included and what work we will do.
Then our team of experts at Garage Door & Opener Repairs installs your new garage door. We guarantee our work and a perfect fit for every door.